The prospect of being able to buy new clothes on Friday is the only thing that is making this weekend worth it. In total me and my boyfriend have been out of the house this weekend for around about an hour and a half. And its driving me insane. Thank god for X Factor and TOWIE.

The Problem is I really want to buy clothes but I also don't want to be in the same situation next month, and I tried to sell some stuff on Ebay and only made £11.50.

Why can't I be addicted to something cheaper like exercise! Then I'd be rich and toned. Because the other thing I have been doing all weekend due to lack of money is spending my little money on chocolate, to keep the endorphins up you know!? It's like a drug for me. Chocolate and clothes are the only things that keep me going in times of need.

I did buy a couple of things this month which in total if I hadn't I'd be 70 quid richer but oh well, I can look nice whilst watching X Factor at least.

Above is a super cute dress I got from River Island. I am not usually a massive fan of River Island, they just seem to like to use embellishment on everything, and I'm not really into rhinestone covered jeans. But to be fair I think that was more circa 2006 and when I stepped in the other day and saw this dress, I died and went to heaven. Polka dots, peter pan collar, cuffs. Tres cute. I stood there for about 20 mins wondering if I could afford it, but as per usual my heart took over my head and it truly was love at first sight! So pleased with it.

My other purchase was this pair of faux suede burgundy desert boots from New Look at only 24.99 I felt they were a bit of a steal, so snapped them up straight away. I was even more impressed that I wore them to work and managed to keep them on pretty much all day. That really is a feat because normally when I wear heels I last about 2 hours no matter the height of them.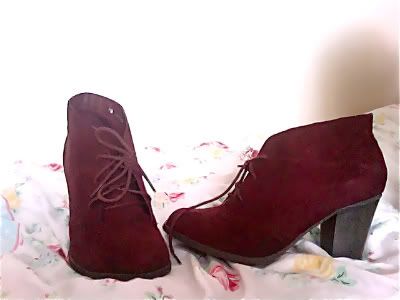 Excuse my bad quality I had to use photobooth because I couldn't find my camera. Right I am off to cook Sunday dinner and get ready for excitement of the evening ahead of me. Lots of love. xo